Patrick Stewart becomes a 'Sir'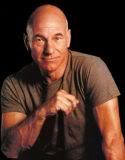 Even Jean-Luc Picard would be impressed with this. British actor Patrick Stewart, the man who brought Picard to life for seven seasons on Star Trek: The Next Generation, was knighted last week by Queen Elizabeth II.
Stewart's success has gone far beyond the science fiction series that Americans tend to associate with him. Indeed, he's been a member of the Royal Shakespeare Company since the age of 26 and has performed in at least sixty productions for the prestigious company.
The 69 year-old actor credits his English teacher for the honor, proclaiming that without Cecil Dormand's encouragement, he would not have been an actor in the first place. Even so, Stewart says he never expected this high honor.
"The knights of the theater represented to me not only the pinnacle of the profession, but the esteem in which the profession was held. To find myself, to my astonishment, in that company is the grandest thing that has professionally happened to me."

The latest knight of the kingdom has recently been seen on the London stage in Waiting for Godot, as well as portraying William Shakespeare in "Bingo." The busy thespian also has plans to participate in 2010's Edinburgh International Film Festival in which he'll chair a jury and deliver a talk.
Americans can see him next in MacBeth, which is currently in post production.
News of Stewart's impending knighthood was first announced late last year and prompted discussion by several DTV USA Forum readers.