Best Buy's Geek Squad to the DTV Rescue
Best Buy's Geek Squad has been contracted by the Federal Communications Commission to provide free in-home installation of up to two digital-to-analog converterboxes.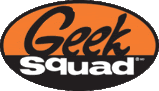 Geek Squad's Home Theatre installation department will provide a complete installation including connecting with an existing VCR, channel scanning, adjusting of antenna, and training on how the converter box works.
Geek Squad can be contacted for converter box installation help up until June 30th, 2009.