My New Roku Box and Internet Streaming
Roku HD-XR Box
Roku Box is one of an ever growing list of WiFi enabled Set Top Boxes that allow streaming of video to your Big Screen Television via modem.

I recently acquired a Roku HD, one of the recently discontinued models, not the new just released series. I chose this box for several reasons over the newer boxes. I have a Wireless G router so didnt need Wireless N, and also preferred the extra connections on the older recently discontinued Roku HD box. This box is limited to 720p streaming, however, my iDSL connection speed at 1.5 Mbps to 2.5 Mbps doesnt really allow smooth 720p streaming, so Im not really missing anything at this time. If you like the extra connections of the older style box but would like to have Wireless N or 1080p functionality, and also a somewhat limited in function USB port, then the Roku HD-XR is being clearanced at Amazon.
Ive been really thrilled with the Netflix watch instantly service, which offers a large and growing number of movies and TV shows, though not its entire catalog of nearly 50,000 DVD titles. Entire series like BattleStar Galactica (old and new) and Dr. Who, documentaries by National Geographic and like Ken Burn's Civil War, plus recently released and classic movies, are available. Quality has been very good, although it does drop some during peak usage hours. Ive read that Netflix streaming now amounts to about 1/5th of internet traffic at peak hours in the US. Using 480p Anamorphic setting, I usually get 4 dots (Netflix top quality rating), but sometimes at peak usage this drops to 3 dots and occassionally 2 dots. Ive never had it drop to 1 dot, but 2 dots is getting into objectionable video quality on a 42″ 1080p LCD.
There are many TV series available on Watch Instantly at Netflix which is a real plus. And Roku is adding Hulu+ to its lineup this month, which adds even more content.
Addtionally there are more Channels as Roku calls them available. Amazon on Demand, is similar to iTunes in its operation, and has scads of content available for rent or purchase. I have not used this service, so cant comment on its function, but it's nice to know it's available. Furthermore there is Pandora, ShoutCast, Live365, Paradise Radio, YouTube, Vimeo, MediaFly, Revision TV, more and growing.
One of my favorite "Channels" are Pod Hub, which organizes much available video from the likes of ABC, NBC, MSNBC, HBO, PBS, Fox News, CNN, NASA, HGTV, and scads of other sources. I really appreciate the newscasts and political talk shows on demand. Another is Mhz Networks which has France24, RT Netword (Russian), and Al Jazeera news programs.
There are some limitations to what is available for streaming, because the Roku can only handle H.264 encoded videos. Fortunately, videos targeted at the iPhone and iPad can be accessed by the Roku, so the list of available video is expanding all the time, though some video is not accessible….which is my biggest gripe.
Boxee Box by D-Link
The Internet Streaming STB (and Internet Capable TVs and BluRay Players) are on fire, with many new releases underway or soon to be here. AppleTVGen2 has just released, Boxee Boxusing the Boxee software and the Logitech ReVue which uses the Google TV engine, are slated to hit the streets before Christmas.
AppleTV
AppleTV Gen2 will probably be better than the Roku long term, but is not at this moment. AppleTV's main advantage right now is its integration with it's other products. If you are a user of the iPhone, iPod, iTunes, iPad, iMac, then AppleTV will probably be the best choice for you. The AppleTV interface is beautiful to behold. A potentially very useful hardware feature is an 8GB Flash Memory buffer, which is not found on the Roku or most other devices currently available for Web Streaming like the WDTV Live+.
Boxee Box looks very promising, having a slick interface, excellent hardware power, and playing a multitude of codecs. Boxee is also open source and will also offer a classic web browser. Boxee Box will screenshift Hulu to your Big Screen TV….and it's multitude of codecs allow access to more video than the Roku (and AppleTV). Ill be watching this one very closely.
Logitech ReVue is also very promising. It will be using the Google TV platform and will also have stand alone web browsing and capable hardware.
And you can always go with a Nettop, like the Mac Mini or the Acer Aspire Revo running Win7 Media Center, XBox Media Center (XBMC), Boxee, GoogleTV, or any other application.
Sony's PS3 and Microsoft's XBox also allow for Netflix streaming and other video streaming with XBox providing the fantastic eye candy XBox Media Center software. Netflix recently spruced up it's PS3 streaming with discless operation and 1080p and 5.1 surround sound capablities. However these 2 solutions can be less than optimal, especially for non gamers.
Things are really heating up in Internet Streaming to your Big Screen TV. Im keeping an eye on developments and in the meantime, Ill be enjoying my Roku Box!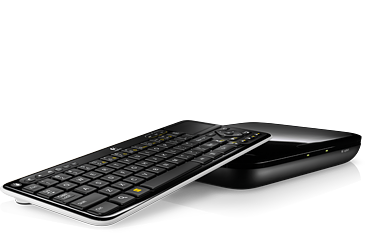 Logitech ReVue
.