Let me start with manufacturers that use mileage, that is a real joke. Simply if there is a hill in the way a 60 mile antenna is not going work any better than a 30 mile antenna pointed straight at the hill. Mileage is the worst way to judge an antenna, then add to fact those like the Chinese Ebay antenna, totally lie about 100 mile range. Sure they will do 100 miles, if the TV station is on top of a mountain, and you are on the top of a mountain and there are no mountains between you and the TV station, then yeah, probably work 100 miles.
That myth out of the way, gain while probably the single most important aspect of measuring an antenna is not always the best nor the only factor in good reception.
Two very good examples when pure gain is not what receives the signal in an antenna.
1) Probably the most common problem not solved by just gain is multipath. Most multipath comes in from the sides, and most at an acute angle to the main lobe (acute angles are those less than 90 degrees). This means it comes in reflected from somewhere very near the main beam to from the sides. Though multipath can be from the rear, it's less common. So except where you need a lot of beam width and you don't have multipath concerns, an antenna with a narrow beam width will in general be a better DTV antenna.
Probably the worst offenders though excellent antennas are the 2 and 4 bay whisker antennas. They have excellent gain, but poor front to side rejection. The antenna is just a 2 element beam with other 2 element beams stacked. There are no directors to limit the side reception. Nor are their any other driven elements stacked beside them such as the 8 bays (which I like to think of as two 4 bays stacked horizontally).
Much better for front to side without sacrificing a lot of gain are short boom yagi's with corner reflectors. Many models are made. The beam width of them on the shortest models is close to a 4 bay. The longer they are though you do then sacrifice wide beam width for gain, in a narrower forward beam, but you gain tremendous front to side rejection.
A good example of this is my situation. I have UHF towers are 54 degrees apart. A 4221A has beam width of 52 to 57 degrees on my channels 16-36. Seems like a match made in heaven! Well until the wind blows and leaves are full of water in spring and summer, then two of my channels constantly break up with multipath. The beam width is just too wide. I receive the signals reflecting from trees too far to the right and to the left. It was unacceptable to watch TV. I replaced it was a U-75R that has a beam width of 47 degrees. What is not told is the U-75R has much better front to side rejection. My multipath problems were solved.
Why is this so? Better yet how can you tell from looking at antenna plots?
First look at the 4221 overhead plot vs the 4228 overhead plot:
Notice how much faster past the 3 db point (beam width) the gain drops off.
Now look at the Winegard 9032:
Notice that in both a log boom corner reflector yagi and the 8 bay, the beam lobe is "squeezed" more into a thinner "oval" where with the 4 bay it's much rounder. This is the core difference why a yagi solved my multipath problems.
Now sure I could have put up a 4228 or a Winegard 8800 but not only are they twice the price, but many many times heavier and catch a lot more wind.
I really think while the DTV transition took to the 4 and 8 bay antenna in a whirlwind of the ultimate solution, most people are much better served with a long boom yagi that is much easier to manage than an 8 bay on a pole.
2) Narrowing the vertical beam width on VHF toward the horizon. This is really the same argument but with a different twist, problem and result.
The same arguments and lessons above apply here but instead of looking as narrowing the beam width in the azimuth or horizontal side to side, this looks at narrowing it in the vertical or elevation up and down.
If you read about unusual reception, you have probably heard about picking up UHF stations behind a hill but pointing the antenna up at the top of the hill. Yes this works. It's from the UHF signals being bent or refracted by the top edge of the hill. You will sometimes hear this called knife edge reception.
On VHF, the bending is much more subtle due to the much longer wave length. This trick only works well if you are on relatively flat ground or your distance horizon is not blocked by a hill or mountain.
By stacking vertically or doubling the boom length of long boom yagis (2 wavelengths or more) you will gain on paper 3 db. But what is not shown is squeezing of the beam width vertically. This places more signal reception right at the horizon, with less wasted on the open sky above or very important, fewer ground reflections from in front of the antenna or array.
Most of the signal from stations that are not LOS are right there at the horizon, something 2m Amateurs operating the 144MHz band have known for years. Build that antenna long or stack on top of the other.
While this doesn't help front to side rejection it's normally done with long boom yagis that already inherently have good front to side rejection.
A very good example to look at this effect though not a VHF antenna is the 4221 (that I didn't like for UHF but makes a great example here for the vertical stacking effect).
Compare the azimuth vs elevation plots for the 4221 antenna.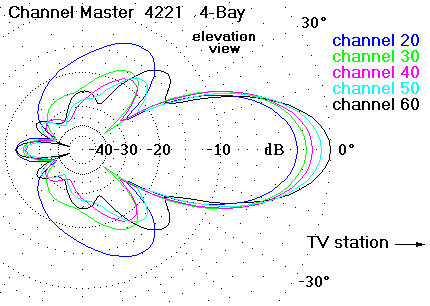 Note since a 4 bay is actually 4 bowtie dipoles stacked on top of each other we can compare this to stacking VHF antennas. Look how much more "squeezed" the elevation plot is the azimuth plot. This is also the 4221's forte' and where it gets it's gain. However as stated in 1) above, on UHF multipath is much worse and vertical squeezing of beam width is less important in a lot of cases than horizontal tightening.
As a practical example of how vertical stacking works on over the horizon (not LOS) signals helps.
If I point at Gainesville, WNBW is 37 miles and LOS at 18 ft AGL at my house. My VHF stack is up 30 ft well above that, hence clear LOS to the station. When I added the second antenna, reception barely improved. This makes sense because stacking at best improves your gain by 2.5 db, hardly enough to notice. It's about enough to make drop outs on a signal on the edge a little less server, which is exactly what I happened.
Now on a non-LOS stations like Jacksonville is from my house. LOS to them is about 400 ft AGL at my house, yet I am only up 30 ft, mainly to get 4 wavelengths above my metal roof where you get away from most effects of the roof.
Toward WJCT in Jacksonville, I could only decode it in moderate to strong tropo on one antenna. WJXX and WTLV decoded about 50% of the time. All stations 61 miles away from 300 meter towers, so even on perfectly flat ground they are about 10 miles past LOS to a 30 ft antenna on my end. On top of that it's not level between me and Jacksonville, so it's a 2 edge path.
But when I added the second antenna, WJCT starting decoding about 60 to 70 percent of the time, and WTLV and WJXX are now there 90% of the time. Much greater than expected from simply 2.5 db of gain. Probably the effect one would see from 6 to 8 db or more of increased gain. No it doesn't make gain from no where, it simply puts the signal reception right where most of the signal exists which really is gain, but for the situation. It's hard to tell how much was gained by reducing ground reflections as stacking also pulling the more of the pattern off the ground in front of the antenna or array.
It's a long debate for terrestrial 144 MHz Amateur band reception is enhanced but stacking vs doubling the boom length (remember they both yield the same increase or close). From my experience stacking works better. Now if you are doing moon bounce or meter scater the longer boom seems to work better by reducing lobes cleanly in all planes, where as stacking always creates some odd side lobes. Hence this could be applied to TV reception. If the station is LOS, use a longer boom yagi, if it's over the horizon, consider stacking two antennas vertically. But don't expect this to work that well on on UHF, as there is much less UHF scattered at the horizon than at VHF when looking at a distance horizon.
My appreciation to Ken Nist at HDTVPrimer.com for the use of his images.