I'm presuming British or European manufacture. It was used as a plant-on detailing part for several props and sets in Star Wars in 1976, so it'd have to pre-date that. It shares similar features with most DIN plugs one runs across, but you can see from the images that the plug body is a bit stubby and its grooves are distinctive, the "tail" of the plug is solid -- no slits to give it more flex, and the coiling of the cord starts RIGHT at the end of the plug, where all the cords I've found -- modern and vintage -- have a good "leader" of straight cord before the coiling starts.
It might raise a few eyebrows, but we Star Wars costumers and prop-replicators pride ourselves on how many of the "found" parts used throughout the films we've been able to identify and source -- pen holders, dental components, turntable parts, plastic sliding track for cabinet doors, et cetera ad very much nauseum.
This is one of the ones that has remained elusive for decades of research.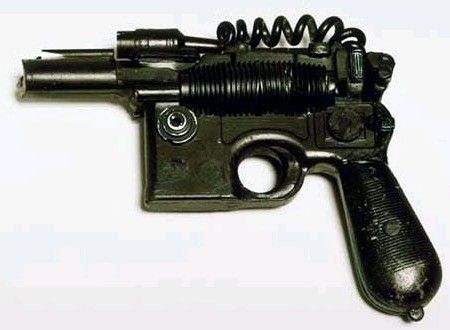 Here's hoping.
--Jonah