Well, I went shopping for DTV antennas, and was looking for an antenna with plenty of elements.
This one caught my eye: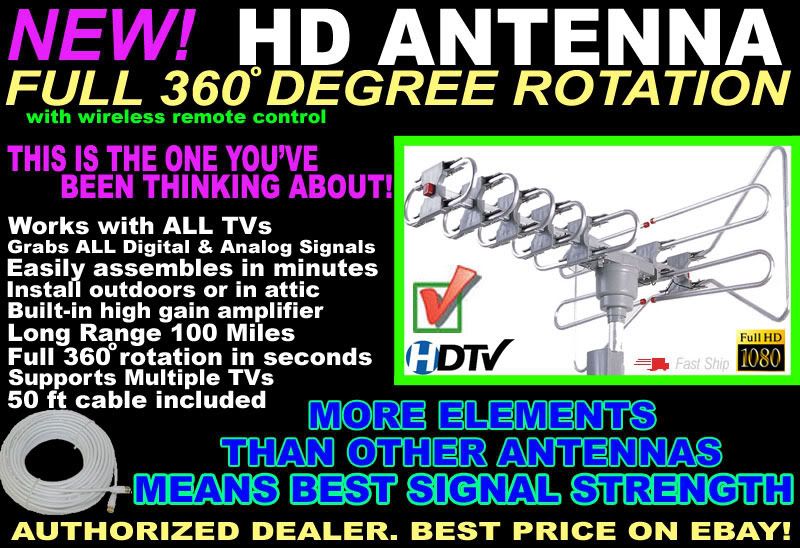 I ordered it. However, what I got was this one: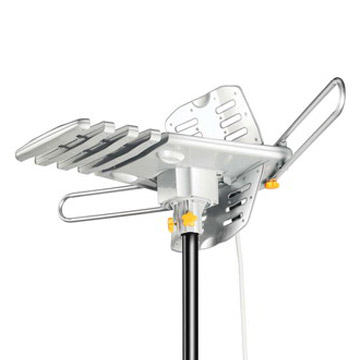 That's the Walito 2602. Very similar to the QuantumFX ANT-108 I actually received:
Manual was riddled with Engrish. "Coockial cable" "Rotalon push button" "Emote controller" amongst correct spellings in repetitions elsewhere. Spanish language half had no errors. The remote control and power unit are covered with paper stickers. Needless to say, I was quite sunk. I asked the seller for a $10-$15 partial refund.
Then I tried it. Oooh. It worked.
Have a look at this raw, uncut video:
[YOUTUBE]http://www.youtube.com/watch?v=x0viH7T11fA[/YOUTUBE]
Yes, I just realized my biggest goof: I HAD THE TV SOUND OFF! Well, I did say "raw," didn't I? Besides, I think the sound is gone on that TV. It IS beat up, as I have to bang it ala-
Onslow
to get it to work right.
You'll see a velcro-docked camera in front of the TV. That's a
CVS one-time-use camcorder hooked to a custom computer cable
, which is how the video was recorded. I have 7 of these cameras. They're wonderful, and cheap to replace if need be.
I mounted it "apartment style", on a short CD spindle, setting it on the TV.
Rotation motor didn't work, as it was a brushless "A/C pulse rotation" motor that are used in cheapo electric analog pool clocks. Sure it has few parts to corrode, but if it was parked in a midpoint, it won't budge. If it had a solenoid that tapped the motor to run, then it would work all the time. Another idea would be a plastic spring-tooth system so that the magnetic pole of the motor wheel would be at the correct position to move when power was applied. Maybe washing the sticky grease inside out with WD-40 could help. Cheap Tongcheng brushless motor. Yes, I took apart the motor from the A-Neutronics, to show what it uses inside.
I extended the dipole bar, and open the reflector cup.
All but one of the pre-transition stations came in. It would probably come in once I put the antenna in the attic.
Some pixelation occurred, but that's because:
I had 2 computers running in the same room as the antenna
There are 2 500 GB external hard drives running at 80% full capacity by the computers
Antenna was mounted 4 feet off the ground
There is a garage door 15 yards in front of the antenna
There's a digital radio clock running 6 inches behind it
The creator-autographed Naked Mole Rat on top of the radio clock is running interference
As for low-power stations, not seen in the test... they come in okay.
One more thing I haven't tested yet: I hope the remote control receiver box does not share the same fault I found with the A-Neutronics control box: The rotation motor control box reacted to a laptop's IrDA transmitter in "broadcast" mode. That means when the laptop was "broadcasting" in infrared, the A-Neutronics antenna jiggled around like it had a nervous tic. It frightened me at first until I found out what was going on.
Want more hardcore raw tests like this? Let me know.