Super Moderator, Chief Content Editor
Staff member
I searched over a year for a Component Tower that fit my needs and finally found it. I purchased a Ridgewood Component Tower kit from Costco. It has proven to be a good unit that I recommend, however, there were some minor difficulties putting it together. The finish is good but my copy used some wormwood veneer, so if you look closely there are tiny black flaws that can barely be seen from four feet away. The kit was made in China and here is an early mock-up photo.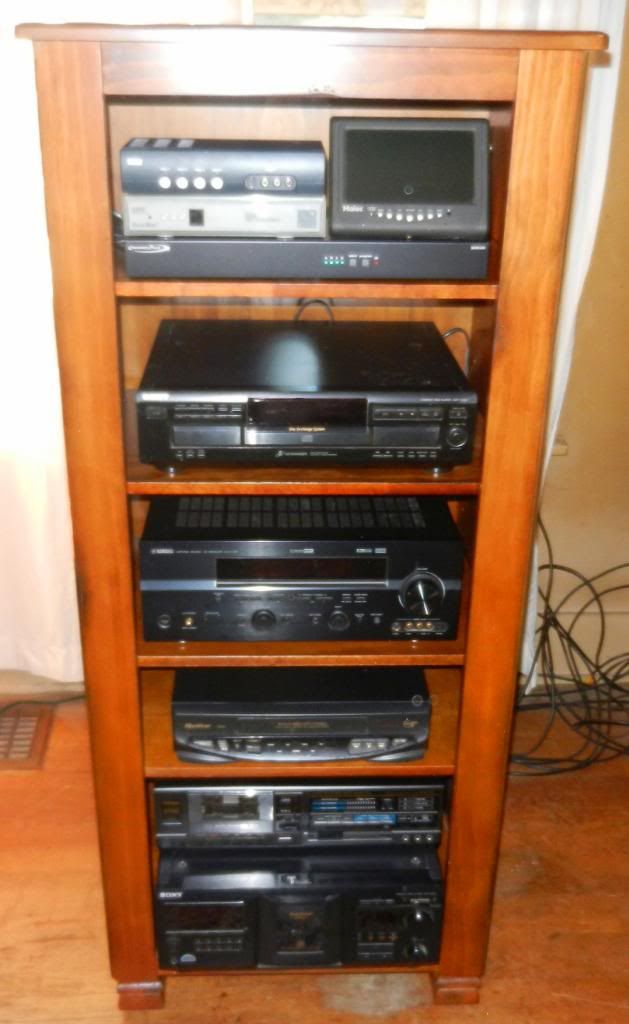 Assembled, it measures approximately 58" tall, 25" wide and 19" deep and it will accommodate units under 17 3/4" wide and 17 1/2" deep (including wiring). It has a solid wood back that can be cut to accommodate deeper components such as a Sony Mega-storage CD or DVD Rotisserie or a big audio amplifier. The shelves provide a 1 1/4" gap at the rear of the cabinet to allow for ventilation and wiring to pass from unit to unit, however, I am going to significantly alter the rear wall of my cabinet to allow wiring to be outboard, to allow short 'custom' cables that will eliminate the usual birds nest of confused wiring and kinking of cables. An example of proper wiring is below and yes, I make my own custom cables for myself and for customers.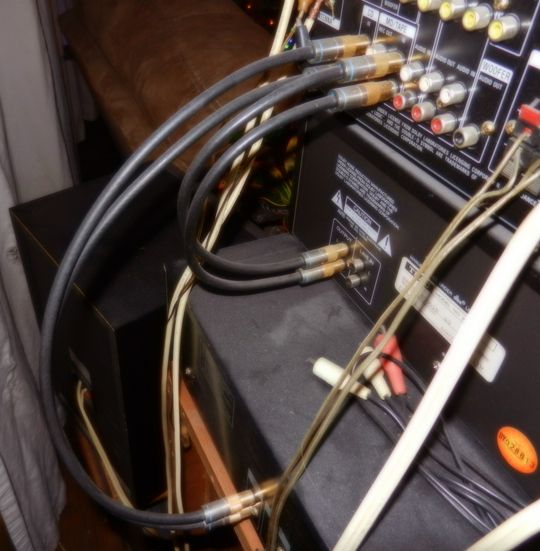 The instruction sheets are provided in English and Spanish (16 pages) and are complete, but they have a few errors that might confuse a novice, however, the manufacturer was smart and every panel has a lettered sticker that also identifies all of the parts. A few head scratches and laughs followed by a dose of common sense will get this kit assembled but not in one hour as suggested, two hours is closer. Nothing was missing in my kit and it included an Allen Wrench (sometimes called a hex key) which is required to assemble it. An example of an instruction error is below: the left side does not match the right side in this drawing.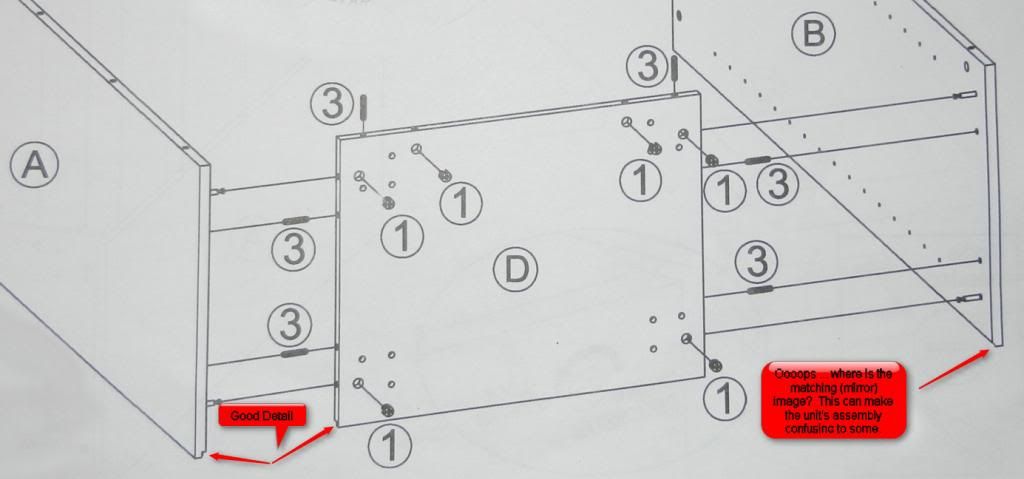 It is constructed from a mix of High-Density Particleboard and real wood and each shelf is conservatively rated at 25 pounds maximum weight. Although not mentioned in the instructions, the floor of the unit could easily support a beefy vacuum tube audio amplifier. This unit is strong and unlike others where the center shelf is fixed to help support the cabinet, all of the shelves can be set in locations via pre-drilled holes spaced at 2 1/2". Those heights may not be ideal for your use and below is an option to relocate the shelves a bit.
That option didn't work for me, so I fabricated a jig to make new shelf heights suited to the components I currently use. It has two dowels that locates the jig in the existing shelf peg holes and it is designed to make new shelf-height holes in the sides of this cabinet 1" below or above an existing hole, or 1 1/2" below or above an existing hole. The drill bits' penetration is limited by a brass collar locked on the drill bit with a set-screw and the round aluminum disc is a bushing to ensure the holes are drilled perpendicular to the cabinet walls.
Amplifiers kick out a lot of heat and require plenty of air-space around them but Blu-Ray DVD decks, VHS Tape decks and many other components generate very little heat and require very little space around them. My tailored shelf height solution is below.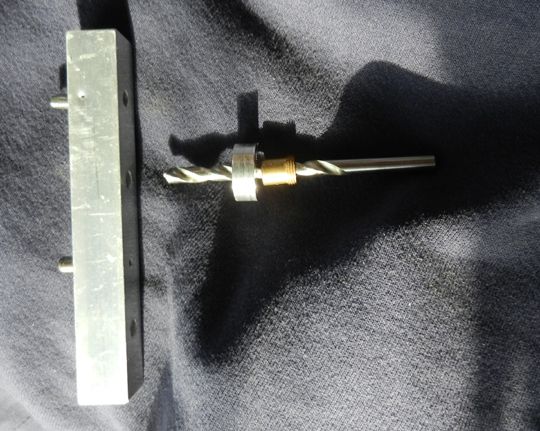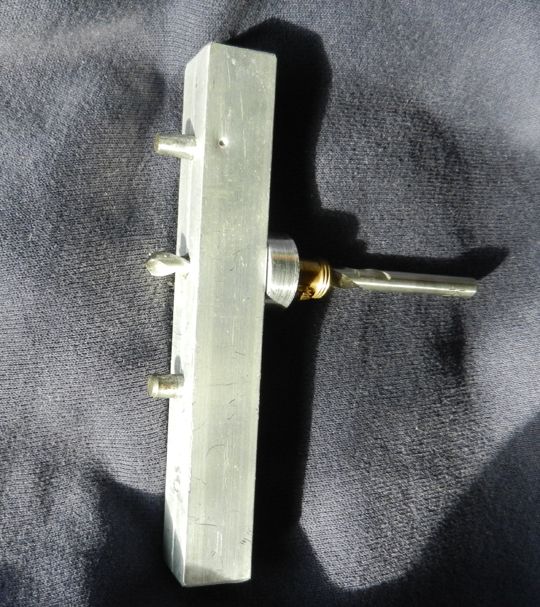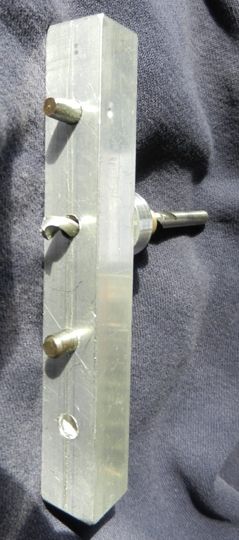 It will be located on an Oak hardwood floor so I added 'generic' Teflon foot skids and it slides easily for servicing. My next revision will be to add motion-activated LED lamp bars concealed in the top and sides to illuminate the face-plates of the components.
The Tower costs $149.00 and is available in two different finishes, Rustic Espresso and Rustic Oak and shipping is available.
Summit Mountain Media Stand - Walmart.com
Jim